March 6, 2022, 6:23 am
How to Ace Your Wedding Makeup and Look Like a Natural Beauty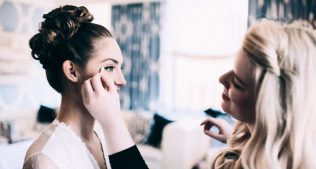 Wedding makeup should be all about accentuating your natural beauty. After all, you want to look like the best version of yourself on your big day! But with so many different makeup looks and products out there, it can take time to know where to start.
Don't worry – we've got you covered. In this blog post, we'll share our top tips for acing your wedding makeup and looking like a natural beauty. From finding the right foundation to perfecting your smokey eye, we'll make sure you have everything you need to look gorgeous on your big day. So let's get started!
Wedding makeup ideas for a soft, natural look
Your wedding day is one of the most important days of your life, and you want to look and feel your best. One way to do that is by having perfect makeup that makes you look like a natural beauty. Here are some tips to help you achieve that goal:
Choose the right foundation. It's important to find a foundation that matches your skin tone perfectly. If you have any redness or blemishes, be sure to cover them with concealer before applying foundation.
Use a matte finish powder. This will help set your makeup and keep it from sliding off your face during the day.
Go easy on the eyeshadow. Too much eyeshadow can make you look like you're trying too hard. A natural look is always best.
Remember the blush. A little bit of blush can go a long way in giving you a healthy, natural-looking glow.
Use lip liner to define your lips. This will help prevent your lipstick from bleeding and give you more control over the shape of your lips.
Choose a natural-looking lipstick shade. You want your lips to look kissable, not clownish. A nude or light pink shade is usually best.
Apply mascara sparingly. Too much mascara can make your eyes look spidery and unnatural. Just one or two coats should be enough.
Set your makeup with setting spray. This will help to keep your makeup in place all day long, even if you sweat or tears start to fall.
Following these tips will help you create a flawless, natural-looking wedding day makeup look that will make you feel like the most beautiful bride in the world.
The best soft wedding makeup looks for a romantic celebration
When it comes to your wedding day, you want to look and feel like the most beautiful version of yourself. And while there's nothing wrong with going for a more natural makeup look, sometimes a little extra glam can make all the difference. We've got some inspiration for you if you consider a soft and romantic makeup look for your big day.
One thing to keep in mind when planning your wedding day makeup is that less is often more. You want to stay moderate with your makeup and end up looking like you're trying too hard. However, a few well-placed products can go a long way in creating a stunning and romantic look.
A good place to start is with your foundation. If you have good skin, you can get away with a tinted moisturizer or BB cream. But if you need more coverage, opt for a light-to-medium foundation that will even out your skin tone without looking heavy or cakey.
For your eyes, start by applying nude eyeshadow all over the lid and up to the brow bone. This will help create a blank canvas for the rest of your eye makeup. Next, add a soft pink or peach shadow in the crease. This will help define your eyes and make them look wider and more awake. Finally, line your lower lash line with a black or brown kohl pencil and smudge it out with a brush for a soft and romantic smokey eye.
Add a pop of color for your cheeks with a pink or peach blush. Start by applying the blush to the apples of your cheeks and blend it back towards your hairline. This will give you a natural-looking flush, perfect for a romantic look.
Finish off your makeup with light pink or nude lipstick. For an extra touch of romance, you can add a gloss in the center of your lips.